About Richard Kahn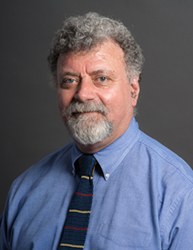 Richard Kahn, PhD, RD, is a nutrition therapist specializing in the needs of both typically developing and atypically developing infants and young children. Nutrition therapy is a counseling approach that places nutrition for children in the context of family life. Picky eating, feeding challenges along with weight and growth concerns can be addressed by nutrition therapy.
Dr. Kahn's approach combines decades of research with individual needs. He has more than 15 years of working with families, over 10 years of nutritional work in the New York State Early Intervention Program and, recently, in private practice. As a researcher, he designed a protocol that successfully taught parents how to wean their children off the baby bottle.
In addition to his scientific credentials, Dr. Kahn also brings to his work a broad perspective on food and families. He is the father of two, as well as a cook at an organic restaurant, specialty-food-store owner and manager at Fairway Market, a leading food retailer in New York City.  He serves on the board of the New York Zero to Three, a nonprofit advocacy group that works to promote the optimal development of young children, their families, and their communities in the New York region.
Credentials
Master of Science in Nutrition and Food Science Hunter College 1998
Registered Dietitian #833760
New York State Dept of Education Certified Dietitian-Nutritionist #002866-1
Doctorate in Social Welfare from City University of New York/Hunter College School of Social Work 2012
Publications
Bonuck, K. A., Ben Avrahama, S., Lo, Y., Kahn, R., & Hyden, C. Bottle-Weaning Intervention to Reduce Risk of Toddler Overweight: A Randomized Controlled Trial. (under review).
Bonuck, K., Avraham, S. B., Hearst, M., Kahn, R., & Hyden, C. (2013). Is overweight at 12 months associated with differences in eating behaviour or dietary intake among children selected for inappropriate bottle use? Matern Child Nutr.
Hyden, C., Kahn, R., & Bonuck, K. A. (2013). Bottle-Weaning Intervention Tools: The "How" and "Why" of a WIC-Based Educational Flipchart, Parent Brochure, and Website. Health Promotion and Practice, 14(1), 75-80.
Bonuck, K., Hearst, M., Ben Avrahama, S., Kahn, R., & Hyden, C. (in press). Dietary intake, feeding patterns, and overweight in 12 months old selected for inappropriate bottle use. Maternal and Child Nutrition.
Kahn R, Bonuck, KA, Twombley M. Randomized Controlled Trial of a Bottle Weaning Intervention. Clin Pediatr (Phila) 2007 46(2):163-174.
Bonuck, KA, Schechter, C. and Kahn, R. Is Late Bottle-Weaning Associated with Overweight and Iron Deficiency Anemia in Young Children? Analysis of NHANES III Data. Clin Pediatr (Phila) 2004; 45:535-540.
Bonuck, KA and Kahn, R. Prolonged Bottle Use and Its Association with Iron Deficiency Anemia and Overweight: A Preliminary Study. Clin Pediatr (Phila). 2002 41(8):603-7. Erratum in: Clin Pediatr (Phila). 2003 42(3):280.